139
Monroe County
Online Divorce Service
100% Service Satisfaction Guaranteed
How It Works
To file for divorce without fuss and stress, follow 3 easy steps.
Complete the Online Survey
Provide us with the necessary information regarding your marriage and divorce simply by answering the questions.
Check completed forms
Receive completed forms backed by our 100% satisfaction guarantee and a step-by-step guide with further instructions.
File Papers with the Court
Submit your divorce forms to the court in any convenient way available to you. Notify your spouse about the divorce.
Valid Grounds for Divorce in Monroe County
Almost three people for every 1 000 get divorced in Monroe County, making it one of the highest-ranked сounties in that area in terms of divorce rate.
There are seven official reasons for ending a marriage in Monroe County:
An irretrievable breakdown in the relationship that lasts over 6 months (a "no-fault" divorce where neither of the spouses has to provide evidence or reasons to support the decision to end a marriage);
Cruel treatment;
Imprisonment (one of the spouses is imprisoned for at least 3 months);
Abandonment (one of the spouses leaves the house without any intention of coming back or refuses to have sex with their partner);
Adultery (requires valid proof of the infidelity);
A divorce based on a legal separation agreement;
Divorce after a judgment of separation.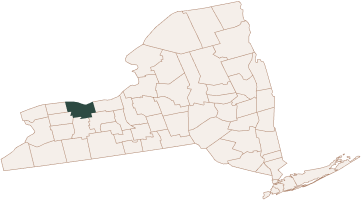 Monroe
County
We have been featured in
Why MonroeCountyDivorceOnline Is Your Best Option
Filling out divorce forms is rarely fun and can take a lot of time and effort. With MonroeCountyDivorceOnline.com you won't have to worry about any of that! Just for $139, you can take advantage of our 7+ years of experience preparing divorce documents in Monroe County. You can be sure that your divorce papers will meet court requirements. Here's want you can get using MonroeCountyDivorceOnline.com:
Satisfaction Guarantee
We stand by the quality of our services
Filing Guide
A detailed guide on filing with the court without an attorney
Easy Editing
Checking answers and correcting mistakes at any convenient time
Required Forms
A complete package of papers for your case
Fast Delivery
Ready-made legal forms within 2 business days in your mailbox
Cost Effective
Saving money and time on meetings with a lawyer
Affordable Process
Forms preparation without leaving home
Customer Care
Professional customer support
Get completed divorce forms in just two business days, ready to sign and file with the court!
Start Now
Benefits of Our Service
At Monroe County Divorce Online we:
100%
satisfaction guarantee
What Clients Say About Us


"This is my second divorce, and I remember the first one cost me a whole fortune. This time I was hoping for a low-cost divorce, and luckily my ex-wife didn't insist on hiring a lawyer too. We found a service called Monroecountydivorceonline.com that cost us only $! We received our fully completed paperwork within two days, and the court successfully approved it."


"The divorce has been a stressful period in my life. But it would be even harder for me if it was expensive too. I'm so glad I found Monroecountydivorceonline.com! It allowed me to deal with my divorce filings with ease and in a short amount of time."


"Thanks to the Monroecountydivorceonline.com, my divorce was extremely cheap and easy. I just answered some questions about my marriage, waited for a couple of days, and my divorce forms were ready. Even with the filing fees, I managed to save a lot of money."


"Divorce was really troubling for me. I wanted to get over with it as quickly as possible. Unfortunately, I didn't have enough money for a lawyer and had to do the filing for divorce myself. I'm no expert in family law or any sort of official documentation whatsoever, so I decided to try Monroecountydivorceonline.com. It took me just 2 days to get my completed documents, and within a week, I filed them with the court."


"Monroecountydivorceonline.com made my life so much easier and stress-free during the divorce! Even though me and my ex-husband had an uncontested divorce, the papers still had to be done, and we had no clue how to fill them out correctly. With Monroecountydivorceonline.com all we had to do was answer a few questions about our marriage. We received our completed documents a couple of days later."


"I didn't want to spend a lot of money on my divorce as it has brought me enough stress on its own. Luckily, with Monroecountydivorceonline.com, all I had to pay was $ for my documentation and a little more for the court's filing fees. I think I can consider myself lucky!"
Monroe County Courts Addresses
Right after you've received your divorce documents from Monroecountydivorceonline.com, sign them, and they are ready to be filed with the court. Here are the addresses where you can do that:
Office of the Monroe County Clerk

39 West Main Street, Room 101,
Rochester, NY 14614

Monroe County Family Court

Monroe County Hall of Justice99 Exchange Blvd.,
Hall of Justice, 3rd Floor, Room 360,
Rochester, NY 14614

Phone: 585-371-3544

Fax: 585-371-3585

Monroe County Hall of Justice

99 Exchange Blvd.,
Rochester, NY 14614